Dewey 17cal 11" Nylon Coated Pistol Rod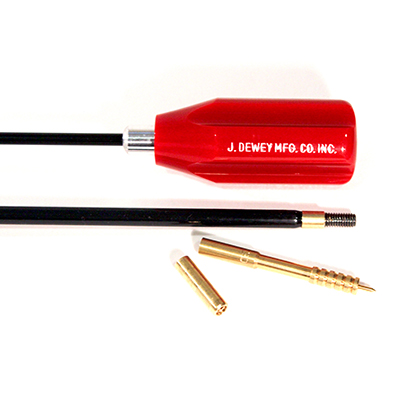 Supplied in a plastic tube with Spear Tip Jag. Rods come with a 12/28 inch male thread and a LGBA Adaptor to take 3/32 female fittings.

Our nylon coating is the thickest on the market and many have tried to duplicate the process but have not been successful.

Our ball bearing handle design, made of 100 Grade Carbon Steel, has been one of the most recognizable in the industry and is sought after all over the world by all types of shooters.

Be aware that TM solution by Sinclair International and Montana X-Treme Solutions have been found to attack the nylon coating of our coated rods. We strongly recommend not using these solutions with our coated rods. If you plan on using these cleaners, please use the brass or stainless steel rods. Thank you.

Please note: For 22 Rimfire and CZ Shooters, we recommend using 20cal cleaning rods, as the 22cal rods have been found to be at times too large to fit through those tight barrels. When ordering a 20cal rod for use with 22cal jags, mops, brushes, etc, you will need to order the 17A adaptor.